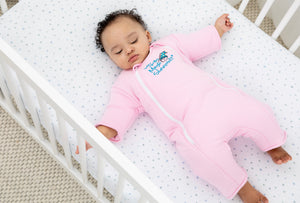 Stage 1: The Magic Sleepsuit
Small: 3-6 months/12-18lbs Large: 6-9 months/18-21lbs
For babies who begin breaking out of the traditional swaddle.
Shop Sleepsuits
Stage 2: The Dream Sack
Age: 6–12 months/16-24lbs
For babies who begin to show signs of rolling in Baby Merlin's Magic Sleepsuit.
Shop Dream Sacks
Stage 3: The Dream Sack Walker
Age:12–18 months/22-28lbs
For older babies who are even more mobile and ready for more freedom of movement.
Shop Walkers