What is the Dream Sack?
Our Magic Dream Sack is a wearable blanket made from the same material as the Magic Sleepsuit. It allows your little one to continue to sleep well in the cozy fabrics they have grown to love while allowing them the freedom of movement they seek.
Transitioning Into The Dream Sack
(6-12 Months)
Parents should look for signs that the baby is starting to "fight" the Magic Sleepsuit (similar to the way they start to fight the swaddle) — e.g. squirming, scooting, trying to roll while in the Magic Sleepsuit, or rolling over while in the Magic Sleepsuit. These are all signs that the baby is ready for the next developmental stage and more freedom of movement in their sleep.
Shop Now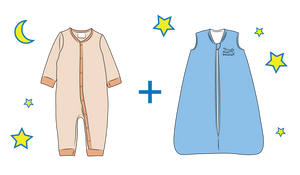 What Should My Baby Wear Under the Dream Sack?
When making the transition from the Sleepsuit, we recommend layering a light cotton pajama with the Dream Sack on top (depending on the temperature, of course).
This wearable blanket product allows for a seamless transition for your baby from the Magic Sleepsuit, allowing them to continue their sleep routine without interruption.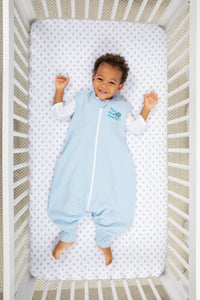 Moving to Stage 3: The Dream Sack Walker
Once your child is taking steps, the Dream Sack Walker is the next step for them!
The Walker includes the same great features as the Dream Sack, with the addition of cozy and snug leg holes that give your child extra freedom they will need as they continue to grow.
Shop Now